The "Pod Brzozami" campsite – Ustronie Morskie
300 metres from the Baltic Sea beach!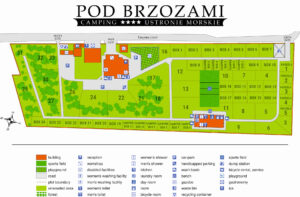 Our all-year campsite "Pod Brzozami" Ustronie Morskie is located 300 metres away from the beach of the town of Ustronie Morskie (getting to the campsite) in the Kolobrzeg poviat (about 12 kilometres away from Kolobrzeg).
Over 1,5 hectares, grassy campsite is situated 100 metres from the town centre, but also slightly away from it, by the road exiting to fields and meadows, which makes the Baltic Sea holidays at our campsite will be both peaceful and safe.
The all-year "Pod Brzozami" Campsite offers cheap holidays at the seaside, it is a merger between modernity and being around nature. The high standard of the campsite guarantees a peaceful time of relaxing, magnified by the landscape aspects, rare view of the starry sky and the humming of the sea waves, which reaches the campsite itself and helps falling asleep.
At the campsite itself, where our all-year guest house is also located, we can enjoy 3000 trees of different kinds, which ensure, especially in the morning, a pleasurable chill in the tents and caravans of our guests; in the late summer, they also provide an unforgettable pleasure of mushroom picking.
What are our goals when running our campsite ?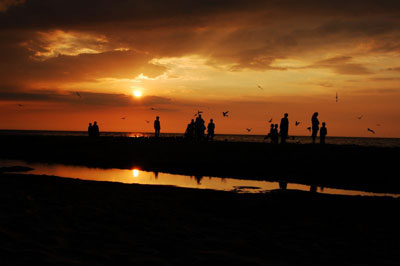 The campsite is run following the regulations of safety of our guests as well as a pleasurable atmosphere, which is ensured by our helpful staff. At the same time, however, we put modernity first. Therefore, the wireless Internet is free of charge, we provide modern boxes prepared for caravans and campers, new clean lavatories etc.
The usage of all the attractions does not require extra payments (the campsite price list).
At the campsite, we can find toilets and showers with hot water, a laundry room, a kitchen with fridge, a microwave, kettles, sinks, dishes, an iron with an ironing board, as well as beach equipment. Our car owners have the opportunity to use the parking spaces, and those possessing electric appliances, to use the electricity provided. We also have an infrastructure that is crucial for the operation of modern caravans and campers in terms of sanitary aspects. A large, fenced garden constitutes an ideal place for relaxation with your beloved pets. Apart from that, there are a lot of places for spending your free time – both during the day and the evenings – (benches, sheds, chair and tables). We are also equipped with bikes, darts, a table football table, a ping-pong table, a playground for children, a fully sized volleyball pitch, where you can participate in exciting matches every evening, which our campsite is very famous for. Welcome to our "Pod Brzozami" Campsite in Ustronie Morskie.